4 Tips to Make Moving Easier
Posted by Bolt PR on Wednesday, January 23, 2019 at 12:15 PM
By Bolt PR / January 23, 2019
Comment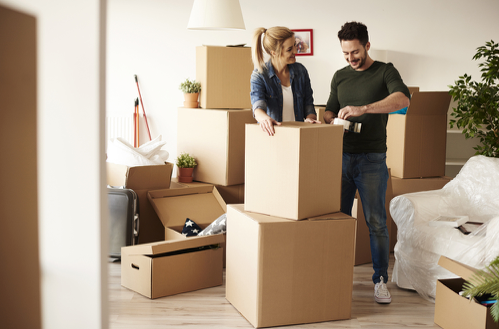 Moving can be stressful when you think about all of the tasks that need to be accomplished before living comfortably in your dream home. Luckily, as one of the top North Texas real estate agencies, we've seen a lot of clients move and we're here to give you the lowdown on some helpful tips we've all learned along the way that will make this huge step in your home buying process much easier.
1. Create a Timeline
By creating a set timeline, you're able to break down the big monster called moving into more attainable tasks and goals. "Plan out how much time you have, how long you think it will take to pack each room and create a schedule with adequate time built in." (SpareFoot.com)
2. Packing What You Need and Want
The truth is, we all accumulate so much stuff over time. When it's all staring you in the face ready to be put in boxes, it can be very overwhelming. To keep the clutter out of your brand-new home, start by only packing the essentials and things that you absolutely need. Then, move on to the things that you feel you can't live without. Finally, start sorting through what can be tossed and what can be donated. By doing this, you ensure that you keep everything you may need without carrying the excess clutter with you.
3. Pack an "Open Me First" Box
One of the most frustrating things that can happen when you finally get all of your boxes into your new home is not being able to find the toothpaste, toilet paper, or your favorite pjs! "Include personal items, and then other necessities like toilet paper, bed sheets and blankets, prescriptions, eyeglasses, contact lens solution, and maybe that book you are almost done reading—really anything that you might be tempted to haphazardly tear through all of your boxes to find in a crisis." (SpareFoot.com)
4. Keep Important Items Off the Moving Truck
Your "Open First" box, important paperwork and any other key items should stay off the moving truck. Keep them with you in the car just in case something goes awry, such as the moving truck showing up late!
Packing up all your belongings is a daunting task, but we hope these tips can help ease the stress just a bit. At Points West Agency, we're here to make the entire homebuying and selling process easier. If you're thinking about buying or selling a home in North Texas, our agents are here to help every step of the way! For more information about the newest listings throughout Denton, Parker and Tarrant counties, give us a call at (817) 717-6036, or visit our Contact Us page.
Sources: https://www.sparefoot.com/self-storage/blog/16928-30-essential-tips-to-make-moving-easier/